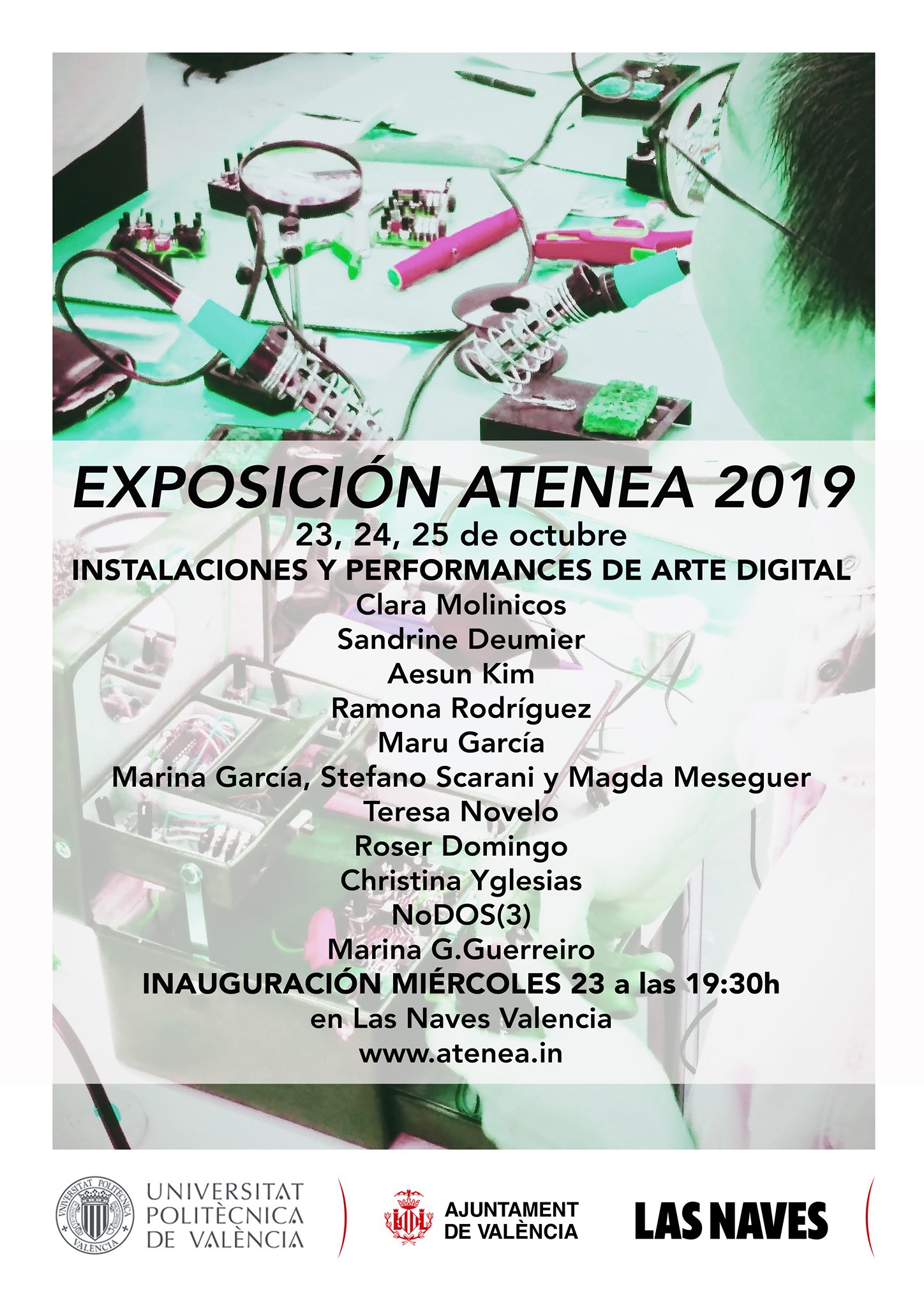 Inauguración Miércoles 23 de octubre a las 19:00
Copa y Networking
Después de la apertura inaugural del evento y de la mesa de Prácticas de Arte Digital y Electrónico, contamos con una serie de performances, proyecciones y ruta por las instalaciones de la epxosición de ATENEA 2019:
19:00 Proyección del corto de video Danza ANOD, realizado por la compañía DansPXL. Danza de introducción por las protagonistas en el mismo espacio de proyección.
19:30 Inicio de la ruta de exposición por los diferentes espacios de Las Naves. Obras:
1. Ramona Rodríguez Panel #6-30. Linz soundcapes
2. Marina García Jiménez, Stefano Scarani y Magda Meseguer. Madre (2019).
Instalción Multimedia
3. Clara González García. Reset the Forest: Interactive Reforestation Device (2019)
4. Aesun Kim, A Spiritual Space
Wearable. Fashion & Tech
5. Maru García The culture (2018)
Medusomyces gisevii (SCOBY), Salvinia natans
6. Teresa Novelo, Interlineal
Instalación sonora/visual
7. Christina Yglesias, . I always have and I always will (2018) and Run for your Love (2018)
8. Roser Domingo Muñoz, Autocrea (2019)
9. Sandrine Deumier, Falling (2019).
Virtual Reality animation.
10. Marina González Guerreiro, Work Hard Dream Big
11. Obra y Performance de NoDOS(3) Acción#8 "flânerie aural"
20:00 Performance aquelarre con Raquel Meyers de mecanografía expandida Donde todo arde.
https://vimeo.com/raquelmeyers
The web service endpoint returned a "HTTP/1.1 307 Temporary Redirect" response